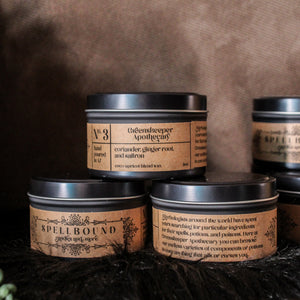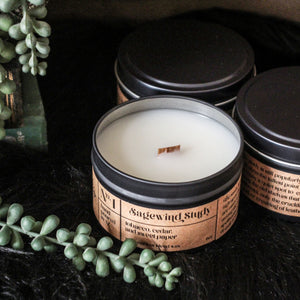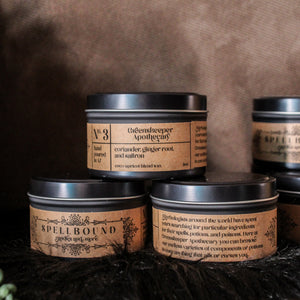 Greenskeeper Apothecary – 6oz Candle
"Herbologists around the world have spent years searching for particular ingredients for their spells, potions, and poisons. Here at Greenskeeper Apothecary you can browse our endless varieties of components or potions to cure anything that ails or curses you."
Notes of: ginger, saffron, and coriander.
Burn it when you're visiting a spicy apothecary or shopping for spell components in your next TTRPG session, getting cozy with a good book, feeling inspired while writing, or just whenever you want to experience the scent of a spicy remedy cabinet!
Candles are coco-apricot blend wax and oz measured by weight. Each comes in a black candle tin with a wooden wick for extra crackle ambiance! Please follow labeled instructions as per the bottom of the candle. As good as it may smell, DO NOT EAT. 
image by arctiumalchemy